If you are planning a September wedding, you are spoilt for choice for flower choices! Many of the summer flowers such as hydrangeas and delphiniums are still in season, but you also have the option of other seasonal blooms such as asters, cosmos and dahlias.
However, if you want your wedding flowers to survive after the wedding day and act as an everlasting reminder of your big day, opting for artificial flowers might the perfect option for you. But just because you are opting for artificial flowers doesn't mean that you can't reflect the season in your bouquet. We are here to give you an insight into our favourite bouquets that would look perfect at a September wedding!
Artificial Wedding Roses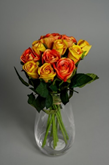 The classic, romantic rose is a popular choice at many weddings. This elegant, beautiful flower would not only look beautiful, but it would also bring a sense of glamour to your September wedding. Artificial roses, much like their fresh counterparts, are available in a variety of gorgeous colours, from white and yellow, to red, pink and black. Red and pink roses would be perfect for a wedding bouquet, due to their associations with love and romance. However, other colours of roses hold equally lovely meanings, and you can read about these meanings here.
Shop our artificial roses here.
Artificial Wedding Lilies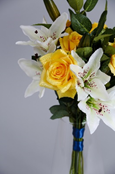 The beautiful lily flower is known for its associations with purity and innocence. However, much like the rose, lilies can bloom in a variety of colours including white, yellow, pink and red. And much like with roses, the meaning of this beautiful flower can change depending on its colour, with red lilies symbolising romantic feelings such as love and passion- which we think is the perfect meaning for your artificial wedding flowers!
You can read more about lilies and their colours on our blog.
View our faux lily collection.
Artificial Wedding Sunflowers

The bright, cheerful blooms of the sunflower are also frequently used for September weddings. This bold flower will not only act as a beautiful statement piece, but their sunny petals are also guaranteed to bring some light and joy to your floral arrangement.
Our artificial sunflower bouquets can be found on our website.
Artificial Wedding Hydrangeas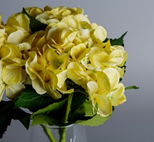 Hydrangeas are the perfect flower for a September wedding, as they are in season from late summer into early autumn. Their elegant blooms can appear in a variety of colours, from deep blues to pale pinks and white, which makes them a popular choice as wedding flowers. Hydrangeas are also said to symbolise heartfelt feelings and appreciation. Pink hydrangeas are also associated with feelings of romance, but you can read more about that here. Overall, we think that the lovely symbolic meanings behind this beautiful flower would make them a perfect choice for any
September wedding!
You can see our silk hydrangeas here.
Why choose Blueberry Street Flowers for your Artificial Wedding Flowers?
There are many benefits of artificial flowers, but at Blueberry Street, we offer a magnificent range of hypoallergenic silk flower bouquets, which are made up of numerous stems that are arranged and hand-tied into a beautiful arrangement. Our bouquets are perfect for both gifting and personal home décor and are sprayed with a unique floral scent, to make our faux flowers feel even more real!
We offer free next day delivery to all areas of mainland UK, when your order is placed before 12pm, and our flowers arrive in our bespoke packaging, complete with your personalised message.