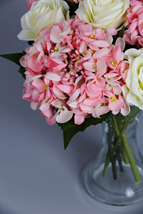 We would all recognise the beautiful, fluffy blooms of the hydrangea that generally pop up during the summer months. Artificial hydrangeas are also an excellent option when buying hydrangeas! They come in a variety of colours, and are thought to symbolise appreciation, gratitude and heartfelt feelings. This makes them the perfect flower for almost any occasion! However, if you want to know more about these delicate flowers, then we are here to tell you!
When are hydrangeas in season?
In the UK hydrangeas bloom during the summer, usually between May and November.
What colours can hydrangeas bloom in?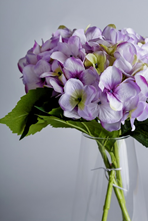 Hydrangeas can bloom in a variety of colours, from deep blue to pale pinks and white! The colour of the hydrangea actually depends on the acidity of the soil that they are grown in. When hydrangeas are grown in acidic soil, they will generally be dark blue. But, if they are grown in alkaline soil, they may be pink, purple or red. Hydrangeas can also be grown in a soil with a neutral pH, which will result in white or cream blooms.
What do the different colours of Hydrangea symbolise?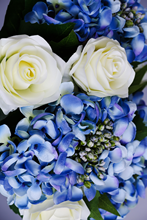 Overall, hydrangeas are said to symbolise appreciation and heartfelt feelings. However, the meaning may change depending on the colour of the hydrangea. Blue hydrangeas supposedly signify understanding and gratitude, whereas pink hydrangeas stand for romance. White hydrangeas are said to signal purity, and purple blooms signify pride and royalty. Therefore, if you are buying hydrangeas as a gift, you might want to pick them depending on their colour.
Why choose Artificial Hydrangeas?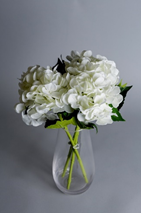 If you are drawn to hydrangeas, but they are out of season, you may want to consider a bunch of artificial hydrangeas, which are available all-year round. Also, if you are attracted to a particular colour of hydrangea, and don't want to both with all of the science of finding the right pH of soil, then opting for an artificial hydrangea arrangement might be the perfect solution! If the hydrangeas are being used for a special occasion or celebration such as a wedding, then an artificial hydrangea bouquet would be ideal as they will last as a memory of the occasion forever!
Shop our artificial hydrangea bouquets here.
Why choose Blueberry Street Flowers for your Artificial Hydrangeas?
There are many benefits of artificial flowers, but at Blueberry Street, we offer a magnificent range of hypoallergenic silk flower bouquets, which are made up of numerous stems that are arranged and hand-tied into a beautiful arrangement. Our bouquets are perfect for both gifting and personal home décor and are sprayed with a unique floral scent, to make our faux flowers feel even more real!
We offer free next day delivery to all areas of mainland UK, when your order is placed before 12pm, and our flowers arrive in our bespoke packaging, complete with your personalised message.