Whilst we are all probably familiar with our zodiac signs and birthstones, we might not know about our birth month flowers. But each month has a designated flower which holds its own special meanings! Much like zodiac signs and birth stones, birth month flowers are said to give an insight into the characteristics of the people born in that month- but also helps you choose a meaningful birthday gifts!
January's Birth Month Flower: Carnation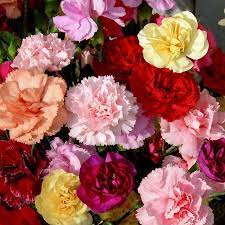 Carnations are flowers with big, beautiful, ruffled petals, and bloom in a variety of colours from deep reds, to yellow and white. Unusually, these flowers are at their best during the winter months, making them the perfect birth month flower for January!
Carnations generally symbolise loyalty, love and devotion. According to this birth month flower, people born in January are said to be passionate and a loyal & protective friend.
February's Birth Month Flower: Violet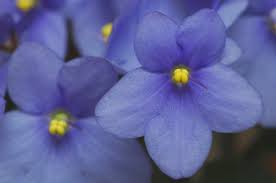 Much like February's birthstone, which is amethyst, its birth month flower is also purple! Historically, their heart-shaped petals were used in love potions- which we think is a perfect fit for the month that is the home of Valentine's Day!
The beautiful violet is said to symbolise humility, wisdom and faithfulness. Therefore, it is said that those with a February birthday are humble, wise, honest and innocent.
March's Birth Month Flower: Daffodil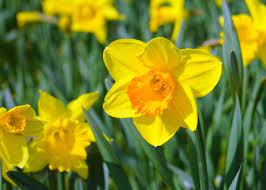 As well as being the national flower of Wales, daffodils are also the birth month flower for March. The bright petals of these beautiful flowers spread joy and happiness, mark the arrival of spring!
Daffodils signify good luck, rebirth and prosperity. And those with the daffodil as their birth month flower have a cheerful and happy disposition.
April's Birth Month Flower: Daisy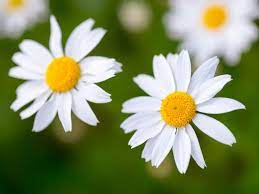 Even though we may think of daisies as flowers that pop up in our fields, they also make a beautiful flower to give as a gift, or to display within the home. Gerbera daisies are particularly good for displaying within a vase.
This birth month flower signifies innocence and loyalty, and so people born in April are said to be sweet, kind and loyal!
May's Birth Month Flower: Lily of the Valley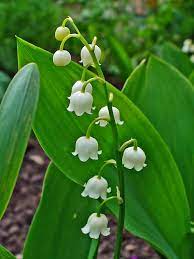 The lily of the valley is a flower steeped in mythology and tradition, and is a favoured flower of royal brides!
Traditionally, this flower represents sweetness, humility, motherhood and a return to happiness. We think that these meanings are beautiful and would make this flower a perfect gift for someone with a May birthday, particularly if they are a mother!
June's Birth Month Flower: Rose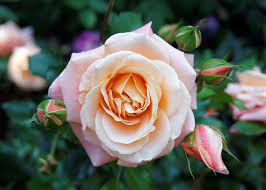 Many people may be surprised to hear that the rose is the birth month flower of June, as it is a flower so heavily associated with February and Valentine's Day!
Generally, roses are said to represent love, beauty and devotion. However, their meaning can change depending on the colour of the petals, and you can read more about the meaning of a rose's colour here.
July's Birth Month Flower: Delphinium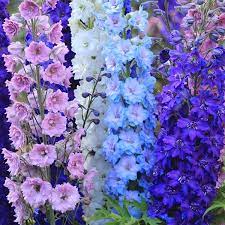 Delphiniums are a classic flower found in Britain, and is found wild in many forests across the UK. They are known to be cheerful flowers, and are guaranteed to brighten up anybody's day!
These flowers symbolise positivity, dignity and an open heart, so people born in July are said to be kind-hearted people who are lovely to be around.
August's Birth Month Flower: Gladiolus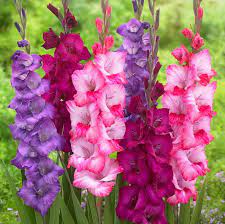 This colourful flower is popular in the summer months and originated in South Africa. As well as being the birth month flower for August, they are also the 40th-anniversary flower!
The gladiolus flower is said to symbolise moral integrity, strength of character and honesty. So, people born in August are said to be strong and independent people.
September's Birth Month Flower: Aster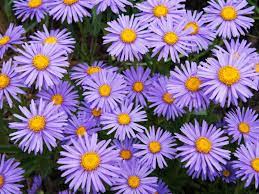 Named for their shape, after the Greek word for 'star', asters are beautiful flowers that can bloom in a variety of colours. These flowers can be found year-round but during September, as autumn starts to creep in, they become one of the most vibrant flowers that can be found!
These flowers are renowned for their associations with love, faith, wisdom and innocence. These beautiful meanings would make them the perfect gift for any September baby!
October's Birth Month Flower: Marigold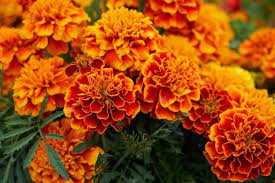 The bright, autumnal colours of the marigold are instantly recognisable, and fitting for the month of October! This flower is steeped in history, and can be traced back to being used by the Aztecs!
This birth month flower represents determination and stubbornness. However, their bright and colourful nature also leads them to be associated with feelings of creativity. Overall, October babies are likely to be driven, hard-working and passionate.
November's Birth Month Flower: Chrysanthemum
The November birth month flower is one of the world's most popular cut flowers, due to the huge spectrum of colours that they bloom in.
Chrysanthemums are generally said to symbolise honesty, friendship and happiness. But they are also thought to be a symbol of luck and to bring good luck to homes where they are on display!
December's Birth Month Flower: Holly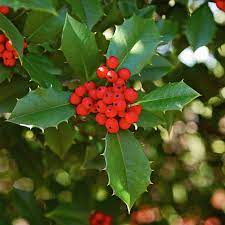 Although this birth month flower is not technically a flower, it is unsurprising to see it as the symbol of December, due to its associations with the festive season!
Despite its history as a symbol of protection against witches during Pagan times, this plant is now associated with feelings of peace, merriment and good fortune. The addition of holly to any December bouquet would add a perfect festive touch!
Why choose Blueberry Street Flowers for your Artificial Flowers?
There are many benefits of artificial flowers, but at Blueberry Street, we offer a magnificent range of hypoallergenic silk flower bouquets, which are made up of numerous stems that are arranged and hand-tied into a beautiful arrangement. Our bouquets are perfect for both gifting and personal home décor and are sprayed with a unique floral scent, to make our faux flowers feel even more real!
We offer free next day delivery to all areas of mainland UK, when your order is placed before 12pm, and our flowers arrive in our bespoke packaging, complete with your personalised message.