We are all probably familiar with Valentine's Day, but did you know that the day before Valentine's Day holds its own celebration? February 13th is Galentine's Day, which is a celebration created by fictional character Leslie Knope in the 2010 sitcom Parks and Recreation. So, what is Galentine's Day? Basically, it is a day for you to celebrate the amazing women in your life, with Leslie Knope saying that it's a holiday for 'ladies celebrating ladies'- which is something we can really get behind!
So, now you know what Galentine's Day is, you might be wondering what the best way is to celebrate is. Like the founder of the holiday, Leslie Knope, you might want to arrange a breakfast for you and all of your friends, or maybe you can arrange an activity that you and your friends love to do already! However, we think that sending your friends a bouquet of luxury artificial Galentine's Day flowers is sure to let the women in your life know that you care! We are here to share our top floral picks for this Galentine's Day.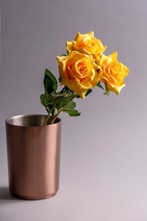 Artificial Roses
Our top pick for artificial Galentine's Flowers is roses. But we know what you're thinking- aren't roses known for their associations with romantic love and with Valentine's Day? And although you are right, roses are also the perfect gift to give to a friend as they are symbols of admiration- and different colours of roses hold different meanings (read about that here), so maybe straying away from the red rose might be the best option for Galentine's Day!
For this holiday, we think yellow roses are the ultimate gift, as they are famous for being the ultimate friendship flower due to their associations with happiness, joy and friendship. Pink roses would also be a lovely choice as they signify gratitude and admiration, so would be a perfect gift to say thank you to any women who have provided help and support for you!
Shop artificial roses here.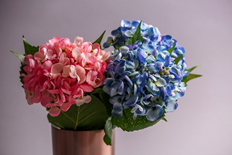 Artificial Hydrangeas
The gorgeous, fluffy flowers of the hydrangeas are instantly recognisable when they pop up in the summer months. You can read more about hydrangeas on our blog. They bloom in a variety of colours, and are thought to symbolise appreciation, gratitude and heartfelt feelings, which would make them a thoughtful gift this Galentine's Day! However, as this flower is in season during the summer, opting for artificial hydrangeas is the best option for this holiday, as it falls in February! You can look at our artificial hydrangea collection by clicking here.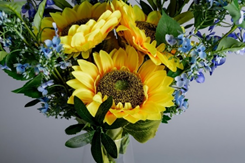 Artificial Sunflowers
The bright, cheerful petals of the sunflower are bound to spread happiness during the gloomy month of February, so we think it is a perfect choice of flower for Galentine's Day. Not only this, but sunflowers are renowned for their associations with loyalty, positivity and pure thoughts, which we think are beautiful sentiments for a flower being gifted to the amazing women in your life! View our artificial sunflower bouquets here.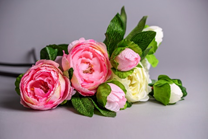 Artificial Peonies
These pretty, delicate flowers bloom in a variety of colours, from white and pale pink to yellow and orange, meaning that there is definitely a colour to suit everybody! Not only are they beautiful flowers, but they are known for symbolising feelings of love, health and happiness, which we think makes them a perfect, thoughtful gift to give the women in your life this Galentine's Day. However, much like the hydrangea, the peony is only in season for a short period during the summer, making artificial peonies ideal for this February holiday!
Shop our artificial peony collection. 
Why choose Blueberry Street Flowers for your Artificial Galentine's Day Flowers?
There are many benefits of artificial flowers, but at Blueberry Street, we offer a magnificent range of hypoallergenic silk flower bouquets, which are made up of numerous stems that are arranged and hand-tied into a beautiful arrangement. Our bouquets are perfect for both gifting and personal home décor and are sprayed with a unique floral scent, to make our faux flowers feel even more real!
We offer free next day delivery to all areas of mainland UK, when your order is placed before 12pm, and our flowers arrive in our bespoke packaging, complete with your personalised message.