As we welcome autumn and the return of our knitted jumpers and woolly hats, we may also be mourning the loss of brighter days and longer nights. So, we are here to share our favourite of our artificial autumn flower, that are not only guaranteed to make you feel autumnal, but will also brighten up the darker autumnal nights! You can shop our artificial autumn flowers collection here.
Lemon Drizzle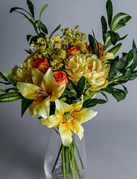 We think that our gorgeous Lemon Drizzle bouquet (containing 5 x Orange Roses, 2 x Yellow Peonies, 2 x Gypsophila, 2 x Yellow Lilies, 2 x Leaf Spray) is absolutely perfect for autumn! The beautiful tones of this bouquet act as a celebration of the autumnal season. But the yellow colour of the blooms is also sure to brighten up any day!Shop the bouquet on our website.
Autumn Days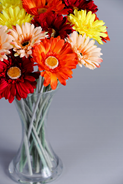 This is arguably our most autumnal-looking bouquet, so of course we had to include it! The Autumn Days bouquet contains pretty silk gerberas in a range of autumnal tones (red, orange, pink, yellow and peach) and comes in a variety of sizes: Standard, Luxury and Grande. Also, gerberas are known for their connotations of cheerfulness and happiness, which we think is perfect as the nights draw in. View this bouquet.
12 Yellow Roses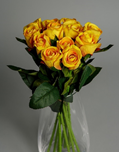 The yellow rose is infamous for being the ultimate friendship flower, due to its meanings of happiness, joy and long-lasting friendship, and we think these are lovely sentiments to bring to your autumn days! Not only that, but this classic flower also brings all the autumnal vibes with its lovely golden yellow colour- making it a firm autumnal favourite of ours! If you wanted to treat yourself, you could opt for the Luxury size, which contains 24 of our gorgeous silk roses.Click here to view this bouquet.
Simply Sunflowers

Although not technically part of our autumnal collection, this beautiful bouquet (which contains 12 of our gorgeous faux sunflowers) is bright and cheerful, and would be guaranteed to bring some joy to darker autumn nights- so we couldn't help but include it! Sunflowers are also in season until early autumn, which makes them a perfect fit for autumn. Sunflowers are known to symbolise positivity and strength, which we think are beautiful feelings to carry into the autumn months. You can shop the Simply Sunflowers bouquet here.
Why choose Blueberry Street Flowers for your Artificial Autumn Flowers?
There are many benefits of artificial flowers, but at Blueberry Street, we offer a magnificent range of hypoallergenic silk flower bouquets, which are made up of numerous stems that are arranged and hand-tied into a beautiful arrangement. Our bouquets are perfect for both gifting and personal home décor and are sprayed with a unique floral scent, to make our faux flowers feel even more real!
We offer free next day delivery to all areas of mainland UK, when your order is placed before 12pm, and our flowers arrive in our bespoke packaging, complete with your personalised message.