When we think of the warmer summer months, we might think of barbecues, holidays and ice creams, but we also think of the smells of summer: sun cream, freshly-cut grass and the fragrance of all the beautiful flowers that bloom during the summer months.
During the summer, many people enjoy freshly cut flowers to bring this beautiful scent into their homes and to bring a pop of colour to greyer days (and we know there are a lot of those during UK summers!). However, if you don't want your summer flowers to be thrown out after a couple of days, or want to display summer flowers out of season, then artificial summer flowers might be the answer for you!
Hydrangeas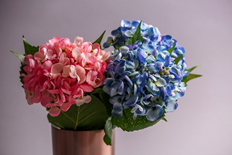 Hydrangeas are also in season during the summer, and they can bloom in a variety of different colours. Blue hydrangeas supposedly signify gratitude and understanding, white hydrangeas mean purity, pink hydrangeas are for romance, and purple can signify royalty or pride.
The colour of blossoming hydrangeas depend on the PH of the soil in which they grow (blue hydrangeas grow in acidic soil, whereas pink or red blooms will appear in alkaline soils). However, if you do not want to bother with all that science and you are drawn to a particular colour hydrangea, opting for an artificial hydrangea arrangement might be the perfect solution!
Shop artificial hydrangeas.
Sunflowers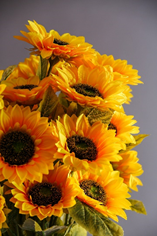 The cheerful blooms of the sunflower tend to appear late in the summer, stretching into early autumn. Sunflowers are known to signify positivity, strength and lasting happiness. Because of these positive connotations, as well as the fact they are only in season for a small period of time, they are a popular choice for bridal bouquets in the summer!
Although sunflowers are perfect for summer, they make for the perfect home décor piece during the winter- as the bright and beautiful flowers
will brighten up even the darkest winter day! However, as sunflowers will not be in season during the winter, opt instead for an artificial sunflower arrangement.
Shop our artificial sunflowers here.
Peonies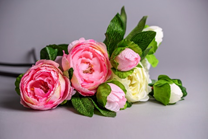 In Chinese culture peonies are known as the 'king of flowers', and are often used in celebrations such as weddings as they signify: love, prosperity and good luck. Peonies grow in a huge variety of shades, from blush pinks and coral shades, to yellow, white and orange! Their colours, as well as their beauty make peonies a very popular flower in the summer months.
However, peonies are only in season for a very short time period (between April and mid-June). So, if you blink and miss them, or if you miss their beauty during the rest of the year, a bouquet of faux peonies may be the answer for you!
Shop artificial peony arrangements.
Roses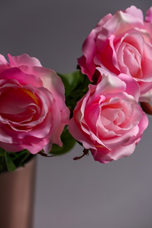 Although roses are an incredibly popular choice all year round, they are in their prime during the summer months. Roses are well known symbols of love and romance, but you can choose the colour of your roses depending on the occasion and your recipient, as all coloured roses hold a different meaning (check out our blog post on the meaning of roses colours here!)
Roses are generally available to buy year-round, but if you are buying a bouquet of roses for a special recipient, or for a special occasion, you
might want to consider buying artificial roses instead, so that they will last forever!
Shop our artificial rose arrangements.
Gerbera Daisies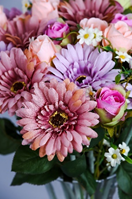 Gerberas are a larger variety of daisy that are bigger and bolder than their daisy chain counterparts, and are commonly featured in bouquets in late spring and early summer. Gerbera daisies are often used in summer bridal bouquets, and are known to symbolise cheerfulness, making them the ideal pick-me-up or get well gift! Much like hydrangeas, the colour of gerberas depends on the PH of the soil, with red gerberas blossoming in alkaline soil.
If you want to add some summery cheer to your home all year round, displaying some faux gerbera daisies is the perfect way! Find some artificial gerbera bouquets.
Why choose Blueberry Street Flowers for your artificial summer flowers?
There are many benefits of artificial flowers, but at Blueberry Street, we offer a magnificent range of hypoallergenic silk flower bouquets, which are made up of numerous stems that are arranged and hand-tied into a beautiful arrangement. Our bouquets are perfect for both gifting and personal home décor and are sprayed with a unique floral scent, to make our faux flowers feel even more real!
We offer free next day delivery to all areas of mainland UK, when your order is placed before 12pm, and our flowers arrive in our bespoke packaging, complete with your personalised message.