Traditionally, flowers are gifted to people by their significant others or partners. However, if you want to send some artificial friendship flowers, we believe that there is no reason for flower gifting to be restricted to romantic relationships, and we think flowers are the perfect gift for any recipient & any occasion. We believe flowers are a particularly lovely gift to gift to friends, so we are here to tell you the 5 best artificial friendship flowers!
Roses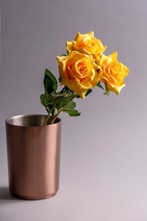 Roses are renowned for their association with love and romance and are often gifted by significant others. However, roses are also the perfect gift to give to a friend, as they are also known to be a
symbol of admiration. You can see our guide on the meaning of rose colours here.
Although you may have a specific colour rose in mind, you might want to consider yellow roses to gift to your friend. Yellow roses are famous for being the ultimate friendship flower due to the fact they represent happiness, joy and friendship!
Shop our artificial roses here.
Sunflowers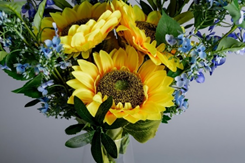 The bright, sunny petals of the sunflower will no doubt brighten the day of any of your friends. As well as the cheerful colours, sunflowers are commonly associated with positivity, loyalty and pure thoughts, and we think these positive connotations would make them a thoughtful gift to any friend.
Shop artificial sunflower bouquets here.
Peonies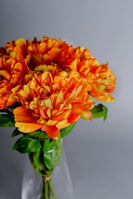 These beautiful, delicate flowers are well-known for representing love, health and happiness. Peonies come in a wide variety of flowers, from white and blush pink to orange and yellow, so you are bound to find a colour that is the perfect fit for your friend!
However, despite the beauty of peonies, they are only in season for a very short period during the summer. Therefore, you may want to consider a bouquet of artificial peonies for your friend instead!
See our artificial peony collection.
Lilies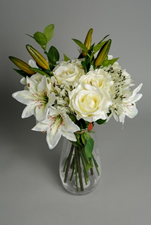 Lilies are renowned for being symbols of purity and rebirth. But did you know they also signify positivity and happiness? Also, the petals of the lily curl outwards and represent openness, generosity and warmth. Because of all the positive meanings that the lily holds, it makes them the perfect flower to give a friend. They are available in a variety of colours, so you are sure to find a bouquet to suit your friend! Lilies are the birth flower for the month of May, so if you have a friend whose birthday is in May, a bouquet of lilies would be even more meaningful!
You can shop our faux lily arrangements on our website.
Mixed Bouquets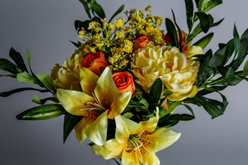 If you can't decide which bouquet of flowers would be the best gift for your friend, you could opt for a mixed bouquet instead. Choosing a bouquet that combines several of your friend's favourite flowers, or picking a bouquet of yellow (the colour of friendship) flowers would make for the perfect gift.
We have a variety of mixed bouquet options for you to shop on our website.
Why choose Blueberry Street Flowers for your Artificial Friendship Flowers?
There are many benefits of artificial flowers, but at Blueberry Street, we offer a magnificent range of hypoallergenic silk flower bouquets, which are made up of numerous stems that are arranged and hand-tied into a beautiful arrangement. Our bouquets are perfect for both gifting and personal home décor and are sprayed with a unique floral scent, to make our faux flowers feel even more real!
We offer free next day delivery to all areas of mainland UK, when your order is placed before 12pm, and our flowers arrive in our bespoke packaging, complete with your personalised message.