We might not associate pink artificial flowers with the winter. But, as we head into November, we might be thinking about Bonfire night, or starting to make our Christmas plans, but the days are getting shorter, and sometimes it can feel a bit grey and dreary! So, we are here to inject some colour into these grey days by discussing our favourite pink artificial flowers!
You can shop our collection of pink artificial flowers here.
Pink Gerberas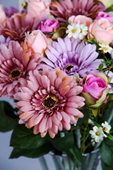 Gerbera daisies are renowned for their associations with feelings of happiness, cheerfulness and joy, which is what makes them one of the most popular flowers in the world! These happy flowers can appear in a range of beautiful colours, but pink gerberas are particularly known for meaning admiration, grace and sympathy. Additionally, gerberas in a lighter shade of pink generally signify compassion and respect, and darker pink shades being a symbol of gratitude. So, not only is this flower beautiful, but is also has some really lovely meanings attached to it too!
Shop gerbera daisies.
Pink Roses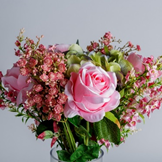 We all know that red roses are traditionally associated with feelings of love and romance. However, different colours of roses can hold different meanings (read about this here). Dark pink roses used to say,
'thank you' and to express gratitude, whilst lighter shades of pink are known to signify grace, elegance and admiration. Therefore, we think that pink roses are an ideal flower to add to your home this November!
View our collection of artificial roses here.
Pink Peonies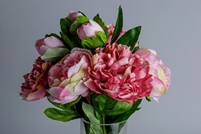 The beautiful, delicate of blooms of the peony are known
for their beauty, and are extremely popular all over the word. But they are also linked with feelings of good luck, prosperity and love- they are even known as the 'king of flowers' in Chinese cultures! We think that these lovely sentiments are perfect to carry you through to the end of 2021, and the pink peony is definitely our favourite variety!
Shop artificial peonies on our website.
Pink Lilies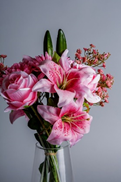 Lilies are well-known for being symbols of purity, new life, rebirth and fertility. However, pink roses also symbolise
femininity and admiration. Not only are they meaningful, but they're also beautiful flowers!
See our artificial lilies here.
Pink Hydrangeas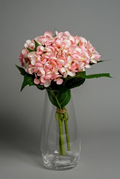 Hydrangeas are beautiful, striking flowers, renowned for their fluffy blooms. Hydrangeas are said to symbolise heartfelt feelings and appreciation. However, like most flowers, their meaning alters depending on their colour. Pink hydrangeas hold the meanings of love and romance. We think having some artificial pink hydrangeas in your home this November will bring some beauty, as well as some good vibes!
View our collection of artificial hydrangeas.
Why choose Blueberry Street Flowers for your Artificial Pink Flowers?
There are many benefits of artificial flowers, but at Blueberry Street, we offer a magnificent range of hypoallergenic silk flower bouquets, which are made up of numerous stems that are arranged and hand-tied into a beautiful arrangement. Our bouquets are perfect for both gifting and personal home décor and are sprayed with a unique floral scent, to make our faux flowers feel even more real!
We offer free next day delivery to all areas of mainland UK, when your order is placed before 12pm, and our flowers arrive in our bespoke packaging, complete with your personalised message.