Halloween is fast approaching, and if you want a change from the traditional ghosts and skeletons, then we are here to share our four favourite ways to decorate this Halloween.
Carving Pumpkins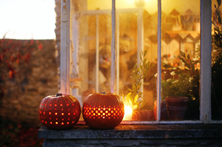 Although this is one of the classic ways to decorate for Halloween, its still one of our favourites! However, instead of opting for the traditional jack-o-lantern faces, why not try carving something more complex? Or if you want something more unique, or try something elegant, like this geometric pattern?
Autumnal Wreaths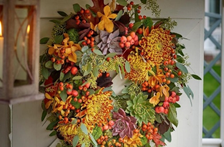 Wreaths aren't just for Christmas anymore- give your front door a Halloween makeover with a seasonal wreath! Seasonal wreaths are available to purchase with either fresh or artificial flowers, and in a variety
of colours, so you are sure to find one to suit you.
Painted Pumpkins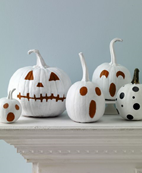 If carving pumpkins isn't for you, or if you fancy doing something different to decorate this Halloween, why not swap your carving knife for a paint brush and try painting your pumpkins instead? You could
paint your pumpkins to match your seasonal colour scheme, or paint patterns onto them to make them look more unique. You could also try painting ghosts and other Halloween-y creatures onto your pumpkins if that fits your spooky aesthetic more!
Dark Tones Flowers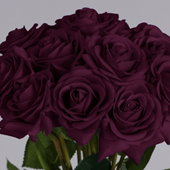 Just because it is Halloween doesn't mean that you have to opt for orange flowers! In fact, flowers with darker tones can look very luxurious, especially when they are styled with other seasonal decorations, such as pumpkins. Not only that, but darker tones can also help to add a gothic, vampiric feeling to any Halloween display! We have written a blog post about our favourite Halloween flowers, which you can
read by clicking here.
Why choose Blueberry Street Flowers for your Artificial Halloween Flowers?
There are many benefits of artificial flowers, but at Blueberry Street, we offer a magnificent range of hypoallergenic silk flower bouquets, which are made up of numerous stems that are arranged and hand-tied into a beautiful arrangement. Our bouquets are perfect for both gifting and personal home décor and are sprayed with a unique floral scent, to make our faux flowers feel even more real!
We offer free next day delivery to all areas of mainland UK, when your order is placed before 12pm, and our flowers arrive in our bespoke packaging, complete with your personalised message.