When it is time to celebrate, whether it is passing a driving test, a new home, or graduation, artificial congratulations flowers are the perfect gift to give! Unlike fresh flowers, artificial flower bouquets will last forever, so the recipient will always have a reminder of their achievement! See our artificial congratulations flowers bouquets here.
What are the best congratulations flowers?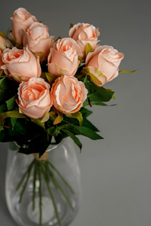 Roses
Roses are traditionally a symbol of love and romance, and people often give red roses to their significant others. But they can also be given to friends and families to show admiration. You can also give different coloured roses to show different meanings, depending on the message you would like to convey to the recipient. You can see the meanings of different colours of roses here.
You can shop our artificial rose arrangements on our website.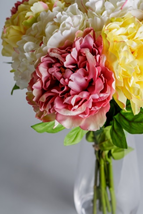 Peonies
Peonies are known as symbols of prosperity, good luck, love and honour, and are often used to celebrate happy occasions such as weddings. In Chinese culture, peonies are known as the 'king of flowers' and are used in important holidays such as Chinese New year, and are also symbols of wealth. Considering the symbolism of peonies, they make for the ideal bouquet of artificial congratulations flowers!
You can shop our faux peony collection here.
Lilies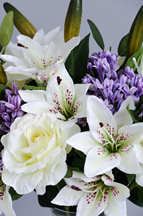 Lilies have gained many different meanings over the years, but its beauty has given it the association of fresh life and rebirth, making them an ideal gift to celebrate a new house or a new job! By picking a particular colour of lily, you can make the gift even more meaningful- white lilies symbolise purity and rebirth, red lilies symbolise love, pink lilies signify admiration, whilst orange and yellow lilies connote confidence, energy and friendship. Although lilies make a beautiful gift, opting for an arrangement of silk lilies means that your meaningful gift will last forever (and won't stain your clothes with pollen!)
Find our silk lilies on our website.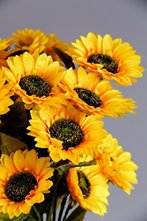 Sunflowers
The bright colours of the sunflower make it a cheery flower. Around the world sunflowers can signify positivity, strength and admiration. In Chinese culture, sunflowers are a symbol of lasting happiness, and are often given at graduations because of this. However, no matter the celebration, the beautiful and joyful nature of these flowers means that they would be the perfect congratulations flowers. As sunflowers are only in season in the summer, opt for a bouquet of faux sunflowers during the winter months for the ideal congratulations gift.
Shop artificial congratulations sunflowers.
Why choose Blueberry Street Flowers for your artificial congratulations flowers?
There are many benefits of artificial flowers, but at Blueberry Street, we offer a magnificent range of hypoallergenic silk flower bouquets, which are made up of numerous stems that are arranged and hand-tied into a beautiful arrangement. Our bouquets are perfect for both gifting and personal home décor and are sprayed with a unique floral scent, to make our faux flowers feel even more real!
We offer free next day delivery to all areas of mainland UK, when your order is placed before 12pm, and our flowers arrive in our bespoke packaging, complete with your personalised message.