If you know someone who has just had, or is about to have, a baby, then it is definitely time to celebrate! And what better way than with a beautiful bouquet of luxury, hand-tied artificial flowers, that will last forever and act as a reminder of the happy day! We have put together a guide to help you choose the perfect artificial flowers to welcome a new baby into the world. You can also add boxes of chocolates onto all of our bouquets- which is a treat I'm sure the new parents would appreciate!
Shop our artificial new baby flowers collection.
What types of flowers should I choose?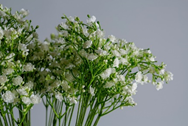 Our artificial flowers are the perfect choice for celebrating a new arrival, as they are hypoallergenic, making them a risk-free option for the new bundle of joy! But, in terms of the type of artificial flower you should opt for, there are countless options!
One option is to opt for the flower that represents the baby's birth month (you can read our post about that here) for an extra-thoughtful gift. You might also want to choose some gypsophila as your artificial new baby flowers, as they are commonly known as the 'Baby Breath Flower', due to its history of being a traditional gift for new mothers! You can read more about the symbolism of gypsophila on our blog.
What colour should my artificial new baby flowers be?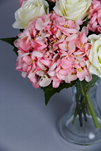 It can be useful to know the gender of the baby when buying flowers for a new baby, as it can help you
to decide on a colour scheme for the bouquet. Pink flowers are the traditional choice for baby girls- and we have a large selection of gorgeous pink bouquets that would make the perfect gift for newborn baby girls. Pink flowers are also associated with feelings of femininity, grace, gentleness and unconditional love, making them thoughtful, as well as beautiful!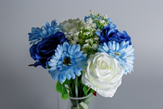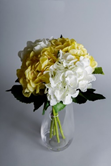 If the baby is a boy, on the other hand, then you might want to opt for blue flowers instead. We stock a range of beautiful blue flowers that would be an ideal gift for the birth of a baby boy! Blue flowers often symbolise peace, prosperity and friendship, which we think are lovely sentiments to gift to a new baby.
However if the gender of the baby is being kept a secret, or if you want to opt for a more neutral colour,
then white or yellow flowers could not be more perfect for this joyful occasion!
Why choose Blueberry Street Flowers for your Artificial New Baby Flowers?
There are many benefits of artificial flowers, but at Blueberry Street, we offer a magnificent range of hypoallergenic silk flower bouquets, which are made up of numerous stems that are arranged and hand-tied into a beautiful arrangement. Our bouquets are perfect for both gifting and personal home décor and are sprayed with a unique floral scent, to make our faux flowers feel even more real!
We offer free next day delivery to all areas of mainland UK, when your order is placed before 12pm, and our flowers arrive in our bespoke packaging, complete with your personalised message.