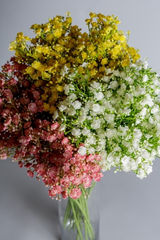 The delicate blooms of the gypsophila flower are well known to us all, but did you know that artificial gypsophila is not only beautiful, but will also last forever, unlike their fresh counterparts. Gypsophila is native to Eastern Europe, and is in season in the UK from late spring to early summer. If you want some gypsophila out of season, or want your blooms to last longer than a week, then faux gypsophila might be the ideal solution! However, fresh or artificial, gypsophila is a flower with many beautiful meanings.
The Meaning of Gypsophila: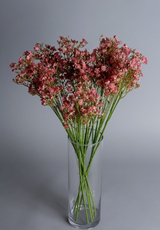 The pretty, dainty gypsophila flower is said to be a symbol of everlasting love, making it a popular choice for wedding bouquets. It is also said to symbolise plenty, which would make it a lovely gift for a new home, or a new beginning. You may also hear gypsophila referred to as the 'Baby Breath Flower', due to its traditional associations with new-borns and new mothers (some sprigs of white gypsophila are said to be the perfect gift to a new mother to celebrate her new arrival!). Gypsophila is also said to
symbolise purity, sincerity, compassion and trust.
What do the Different Colours of Gypsophila Symbolise?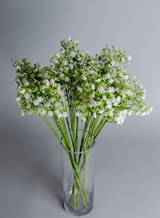 Like most white flowers, white gypsophila is said to symbolise purity and innocence. But we think that gypsophila's connections with new-born babies means that this meaning is particularly relevant with white gypsophila. Gypsophila also blooms in pale pink and yellow. Pink gypsophila is said to convey messages of affection and romantic feelings. Gypsophila may also be yellow, which holds meanings of
joy and happiness.
Why Use Artificial Gypsophila?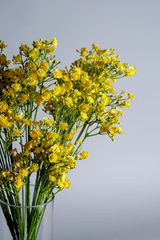 The beautiful meanings associated with gypsophila makes it a popular flower in wedding bouquets & centre pieces, as well as it being a popular gift for new mothers. However, fresh gypsophila is likely to wither and fade after a few days. Therefore, if you are gifting gypsophila for a special occasion, you may want to opt for a bouquet of artificial gypsophila to act as an everlasting memory!
Shop our artificial gypsophila here.
Why Choose Blueberry Street Flowers for your Artificial Gypsophila?
There are many benefits of artificial flowers, but at Blueberry Street, we offer a magnificent range of hypoallergenic silk flower bouquets, which are made up of numerous stems that are arranged and hand-tied into a beautiful arrangement. Our bouquets are perfect for both gifting and personal home décor and are sprayed with a unique floral scent, to make our faux flowers feel even more real!
We offer free next day delivery to all areas of mainland UK, when your order is placed before 12pm, and our flowers arrive in our bespoke packaging, complete with your personalised message.