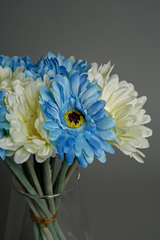 Artificial gerberas are extremely popular flowers- and have actually been crowned the fifth most popular flower in the world! They are known for their bright, cheerful petals and the variety of meanings associated with gerberas make them the ideal gift for any occasion. However, they are generally only in season in spring and summer in the UK, so if you want your happy-looking gerberas all year-round, then choosing for artificial gerberas might be the perfect option for you!
At Blueberry Street Flowers we stock a range of bouquets containing the beautiful gerbera daisy, which you can view here.
History & Origins of Gerberas: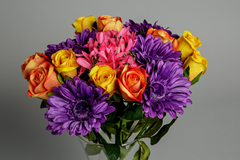 Gerbera daisies are a perennial plant native to South Africa, America and some Asian countries. However, they can now be found growing around the globe. Gerberas may also be known as African daisies or Transvaal daisies- and come from the same botanical family as sunflowers!
The Cultural Significance of Gerberas: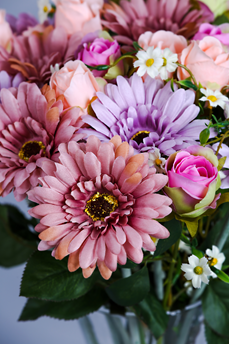 Gerberas are a flower which hold significance in many cultures across the world. To Egyptians, the gerbera flower is a devotion to the sun and demonstrate a directness to mother earth. For the Celts, gerberas are thought to reduce stress and bring happiness at times of sorrow. In Norse mythology, the goddess Freya (goddess of love, beauty and fertility) has the daisy as her sacred flower. 
The Meaning of Gerbereas: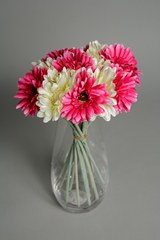 The popularity of the gerbera daisy has allowed it to develop many different meanings over time, but they have connotations of beauty, innocence and purity. However, the meaning most commonly associated with the gerbera flower is cheerfulness and happiness, due to their wide range of beautiful, bright colours. Whilst in general, gerberas signify cheerfulness, their meaning can change depending on their colour!
Pink Gerberas: Pink gerberas are associated with feelings of admiration, grace and sympathy. Lighter pink gerberas generally signify admiration, compassion and respect, with darker pink gerberas often being used as a symbol of gratitude.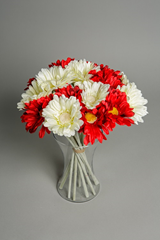 Red Gerberas: Like most red flowers, red gerberas have associations with love, romance and passion. These meanings make red gerberas a perfect gift for your significant other, whether its for Valentine's Day or their birthday!
White Gerberas: White flowers are renowned for their connotations of purity and innocence, and white gerbera daisies are no different! They are often used for wedding bouquets or arrangements, and are popular baptismal celebrations.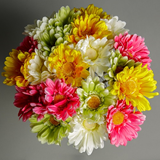 Yellow Gerberas: The bright, joyful petals of a yellow gerbera are known for signifying friendship and happiness! This makes them the perfect gift to send to a friend on their birthday, or to let them know you're thinking of them.
Orange Gerberas: Much like yellow gerbera daisies, orange gerberas symbolise happiness and friendship. They also represent joy, so we think
they would make the ideal flower to send to friends who need a pick-me-up!
Purple Gerberas: The colour purple is traditionally associated with royalty and elegance, and purple gerberas are also associated with these meanings, as well as signifying charm, grace and pride. Many people also say that purple gerberas, like their red counterparts, can be used to portray romantic feelings!
Why Choose Blueberry Street Flowers for your Artificial Gerberas?
There are many benefits of artificial flowers, but at Blueberry Street, we offer a magnificent range of hypoallergenic silk flower bouquets, which are made up of numerous stems that are arranged and hand-tied into a beautiful arrangement. Our bouquets are perfect for both gifting and personal home décor and are sprayed with a unique floral scent, to make our faux flowers feel even more real!
We offer free next day delivery to all areas of mainland UK, when your order is placed before 12pm, and our flowers arrive in our bespoke packaging, complete with your personalised message.
If you are new to faux flowers, or are looking for some new ideas, we are here to share our top tips on how to style artificial flower bouquets. All of our tips are simple, and will help you add a pop of colour and beauty into your home.
Look at our website to see our wide variety of artificial flower bouquets.