Now that December is in full swing- we are starting to feel festive! So, we thought we would share our favourite red artificial flowers to get some festive décor inspiration, and to get us into the Christmas spirit!
You can shop our selection of red artificial flowers by clicking here.
Red Roses
We know that red roses are usually reserved for Valentine's day- but they shouldn't be! Just because they are traditionally associated with feelings of romance and love, doesn't mean that we can't display them all-year around. These beautiful, elegant flowers would make the perfect addition to any Christmas table.
Shop our collection of luxury silk roses.
Red Lilies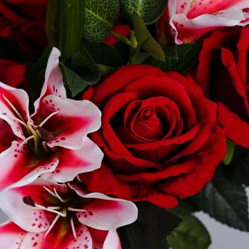 Much like the red rose, red lilies stand for love and passion. Red lilies make the perfect gift to give to your significant other this Christmas, and are more unique than the traditional red rose. Or, if you're not looking to gift flowers to a loved one- why not treat yourself to some red lilies to compliment your festive décor? And unlike real lilies, our artificial red lilies will last for countless Christmases to come!
View our collection of artificial lilies.
Red Gerberas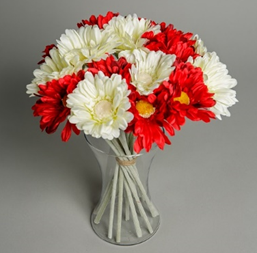 Gerberas, or gerbera daisies, are one of the most popular flowers in the world- and it's not hard to see why! Their beautiful, bright petals symbolise joy and cheerfulness, which we think is what Christmas is all about! Not only are these flowers meaningful and happy, they are also very pretty, and would look lovely amongst all your Christmas decorations!
Click here to shop our artificial gerberas.
Red Hydrangeas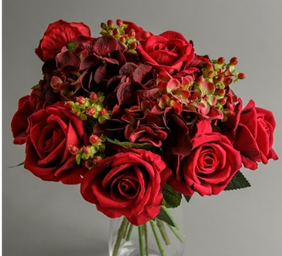 If we have to admit it, this one is probably our favourite! Our red hydrangea bouquet (click here to view it) is luxurious, elegant, and its beautiful colour feels incredibly festive. Also, hydrangeas are said to symbolise appreciation, so we think that is a lovely sentiment to see you through the end of the year!
Why choose Blueberry Street Flowers for your Red Artificial Flowers?
There are many benefits of artificial flowers, but at Blueberry Street, we offer a magnificent range of hypoallergenic silk flower bouquets, which are made up of numerous stems that are arranged and hand-tied into a beautiful arrangement. Our bouquets are perfect for both gifting and personal home décor and are sprayed with a unique floral scent, to make our faux flowers feel even more real!
We offer free next day delivery to all areas of mainland UK, when your order is placed before 12pm, and our flowers arrive in our bespoke packaging, complete with your personalised message.