Artificial Christmas Bouquets might not be the first thing you think of when you start to decorate your home for Christmas, we think that they make a beautiful addition to any festive display. So, this week we are here to give you a run down on our absolute favourite artificial Christmas bouquets.
Velvet Rose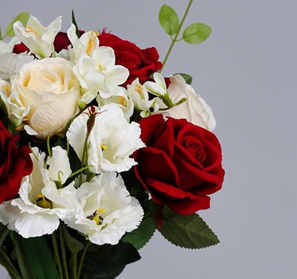 This stunning 20 stem bouquet contains Ivory Lisianthus, Red Roses, White Roses and White Freesia. Not only is this bouquet incredibly elegant, but the mix of traditional red and green with white tones means that it would look perfect with a variety of different festive themes- from traditional to modern
Christmas décor.
The Velvet Rose bouquet can be found here.
Christmas Hydrangeas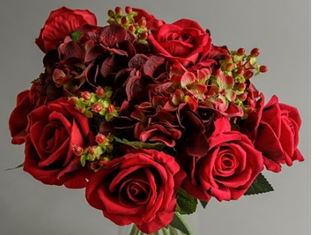 Our Christmas Hydrangea bouquet contains Burgundy Hydrangeas, Red Roses and Hypericum Berries has feels very sumptuous and luxurious. The burgundy and red colours of the flowers make it an ideal bouquet to incorporate into your decorations to help make a gorgeous Christmas display this year (and for years to come, as our flowers are artificial and last forever!)
Shop this bouquet here.
Christmas Meadow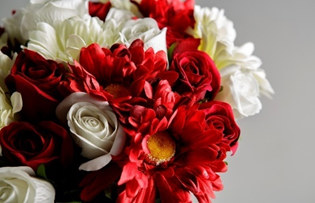 Our lovely Christmas Meadow bouquet contains Red and Cream Gerberas, as well as Red and White Rosebuds. The festive colours of this bouquet are sure to complement a variety of Christmas decoration themes, making it a very versatile bouquet! Also, gerberas are renowned for their associations with happiness and joy- and what could be more perfect for Christmas!
You can view the Christmas Bouquet here.
Christmas Roses & Lily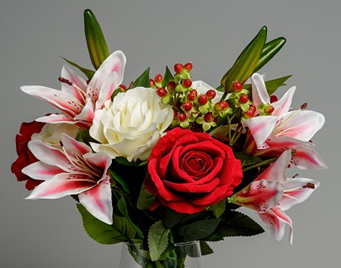 The Christmas Rose & Lily bouquet contains Ivory Roses, Red Roses, Pink Oriental Lilies and Hypericum Berries and gives us some serious festive vibes! The vibrant reds, and the greenery in this bouquet would make a great addition to your Christmas décor if you stick to a traditional colour palette or red and green.
Shop this bouquet on our website.
Whiteberry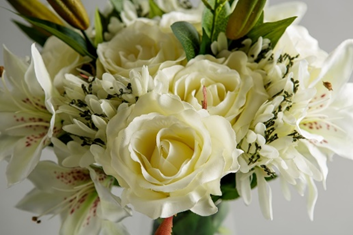 Our stunning Whiteberry bouquet is definitely one of our most luxurious containing Ivory Roses, Ivory
Oriental Lilies and White Agapanthus. We think that the gorgeous white and cream tones of this bouquet would complement Christmas décor extremely well, especially if your tree has a snowy theme!
You can shop our Whiteberry bouquet by clicking here.
Why choose Blueberry Street Flowers for your Artificial Christmas Bouquets?
There are many benefits of artificial flowers, but at Blueberry Street, we offer a magnificent range of hypoallergenic silk flower bouquets, which are made up of numerous stems that are arranged and hand-tied into a beautiful arrangement. Our bouquets are perfect for both gifting and personal home décor and are sprayed with a unique floral scent, to make our faux flowers feel even more real!
We offer free next day delivery to all areas of mainland UK, when your order is placed before 12pm, and our flowers arrive in our bespoke packaging, complete with your personalised message.