We all know that November can be a bit dark and dreary, which can definitely affect our moods in a negative way. But we are here to help you bring some happiness and colour to your winter nights by telling you about our favourite artificial yellow flowers!
Yellow Lilies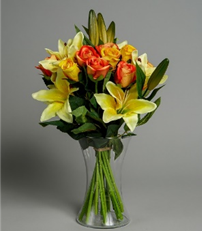 One of our favourite artificial yellow flowers is yellow lilies because their sunny colour can evoke feelings of happiness, making them the perfect flower to bring some joy to dreary November days! Also, the colour yellow is renowned for being the colour of friendship, so we think that they would be a great flower to send to a friend, if they are struggling with the dark nights this winter.
Shop our artificial lily collection here.
Yellow Roses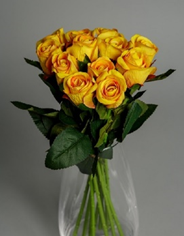 Roses aren't just for Valentine's Day, they can also be the perfect flower to brighten up your day! Yellow roses are particularly joyful, as they are known as the ultimate friendship flower. So why not send your
friend a bouquet of yellow roses this November, to spread the love?
Shop artificial roses.
Sunflowers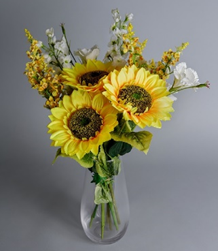 The cheerful blooms of the sunflowers are known to signify positivity, strength and lasting happiness.
Although sunflowers are perfect for summer, they make for the perfect home décor piece during the winter- as the bright and beautiful flowers will brighten up even the darkest winter day! However, as sunflowers will not be in season during the winter, opt instead for an artificial sunflower arrangement.
Shop our artificial sunflowers here.
Yellow Gerberas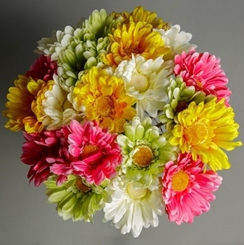 Not only is the colour yellow associated with joyfulness, but the gerbera daisy is also commonly associated with feelings of cheerfulness and happiness. These flowers are very popular around the world, and to the Ancient Celts, gerberas were thought to reduce stress and bring happiness at times of sorrow. Therefore, we think combining a cheerful flower, with a sunny colour is the perfect combination for a grey November!
We stock a range of bouquets containing the beautiful gerbera daisy, which you can view here.
Yellow Hydrangeas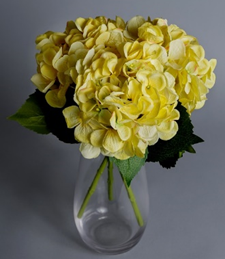 Hydrangeas are beautiful flowers said to symbolise heartfelt feelings and appreciation. However, like
most flowers, their meaning alters depending on their colour. Yellow hydrangeas, like most yellow flowers, are known for holding meanings of happiness and joyfulness- so we think they would make a lovely addition to any home this winter!
View our collection of artificial hydrangeas.
Why Choose Blueberry Street Flowers for your Artificial Yellow Flowers?
There are many benefits of artificial flowers, but at Blueberry Street, we offer a magnificent range of hypoallergenic silk flower bouquets, which are made up of numerous stems that are arranged and hand-tied into a beautiful arrangement. Our bouquets are perfect for both gifting and personal home décor and are sprayed with a unique floral scent, to make our faux flowers feel even more real!
We offer free next day delivery to all areas of mainland UK, when your order is placed before 12pm, and our flowers arrive in our bespoke packaging, complete with your personalised message.